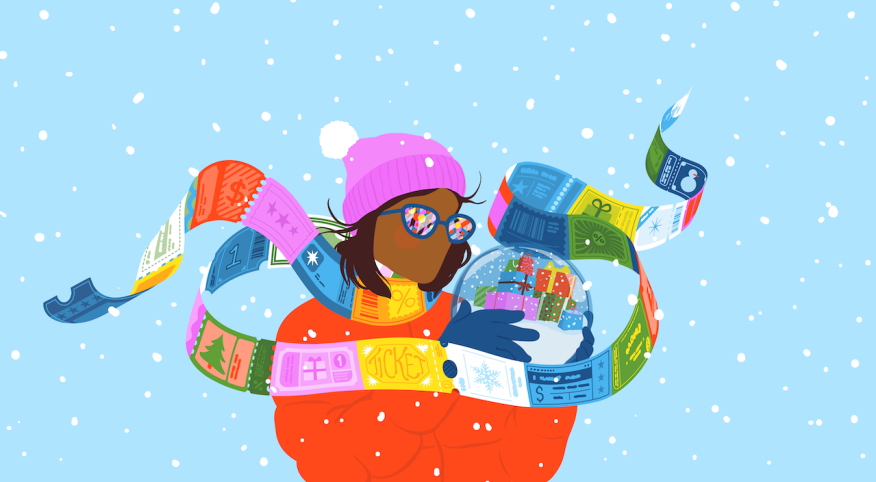 Winter is coming, so arm yourself with a list of winter wonderland activities to keep you and your family busy, entertained and within budget. Many cities around the country offer free activities to promote their communities and provide residents with opportunities for low-cost seasonal enjoyment. The fun can vary widely, but there's usually something for everyone to get outside in the cold, crisp temperatures and enjoy the splendors of the season.

Ice skating

Boston: Boston-area outdoor skating rinks typically open in November and run through early March. Rinks include The Boston Common Frog Pond and Fenway's The Rink. Skate fees are approximately $6 for those over 58 inches tall at Frog Pond. Those under 58 inches skate free. Skate rentals, lockers and skate-sharpening services are also available. Skate fees at The Rink are $10 for adults. College students with ID, seniors and kids under 12 pay $6. Check conditions and times before heading out.

Chicago: The McCormick Tribune Plaza & Ice Rink or McCormick Tribune Plaza is free and open to the public from November through March. Online reservations are required. Skate rentals are available for $10. Call for information and reservations.

Knoxville, TN: The Ice Chalet in Knoxville offers low-cost public skating most days of the week. Prices include $7.50 admission for skaters, $5.50 for spectators, with a $7.50 skate rental fee. Skate rentals ($8.61), as well as locker rentals and helmets, are available. Discounted five- or 10-session public passes are also on sale. Call for availability and hours.

Providence, RI: The Providence Rink in the heart of downtown offers daily skating weather permitting. A ticket is good for three hours of skating for $9 for adults, $6 for children, and $6 for seniors over 65, with $2 military discounts. Call for reservations.

Rapid City, SD: The Main Street Square ice rink in Rapid City's vibrant downtown center offers low-cost skating. The rink may close when the weather is below 10 degrees. Fees are $7 for day passes with $5 skate rentals. Those in the military, seniors and students with ID pay $2. Merchandise available. Check for times and closures.

St. Paul, MN: The Twin City area is home to free outdoor area skating rinks with full-size and half-size hockey and pleasure rinks, some with warming houses and skate rentals for $4, making this a frugal family or date day activity. Skating season is short due to weather variations, typically from December to February. Call ahead to check the times and availability at the rink in your area.

Winter festivals

Bryce Canyon Winter Festival, Bryce Cannon City, Utah

Held February 17, 18 and 19 in 2024.

The free outdoor festival celebrates winter outdoor recreation. Cross-country skiing, kayaking demos, night hikes, stargazing events and sleigh rides abound. Kids' events include boot races, ice skating, and crafting. Most events are free with some requiring a participation fee.

Napa Valley Mustard Celebration in California

January – March 2024

The wild mustard season runs from January to March in Napa Valley, where the entire region is blanketed in golden yellow mustard bloom flowers planted as a cover crop between the rows of grapes to encourage beneficial insects and add nutrients to the soil. Area events include food, wine and art celebrating the region's culture.

Mardi Gras, New Orleans

On Tuesday, February 13, 2024, New Orleans celebrates Fat Tuesday, the largest winter celebration in the country. Marking the end of the carnival season and the beginning of Lent, Mardi Gras is a day of festivity. Most celebrations begin two weekends before Fat Tuesday including parades, cake festivals and Lundi Gras celebrations of food, music and crafts the day before Fat Tuesday. Known as the "greatest free show on earth," most events are free, and beads and candy are liberally thrown to bystanders.

The Saint Paul Winter Carnival, St. Paul, MN.

January 25 to February 5, 2024

Held since 1886, the Saint Paul Winter Carnival is considered the largest in the U.S. with dozens of winter activities in a city where winter temps rarely rise above 20 degrees. Most activities are free or low cost. Carnival goers can choose among ice sculpting tournaments, ice fishing competitions, parades and more.

The Whitefish Winter Carnival LXV in Whitefish, MT.

February 2, 3 and 4, 2024

Part small-town celebration combined with long-held tradition, the carnival centers around the Nordic God, Ullr. Events include a Penguin Plunge into Whitefish Lake, skijoring (skiing while pulled by a horse) and a grand parade.

Holiday markets

Alaskan Christmas Bazaar, Anchorage, AK.

On November 11, 2023, the Alaskan Christmas Bazaar opens as a free holiday market for those who want to shop for unique hand-crafted items like jewelry, quilts, art and woodwork. The free bazaar attracts vendors from all over the state to sell their creations. Started in 1983, the event has become a tradition with over 150 booths.

Christmas Village, Baltimore

An authentic German Christmas market running from November 18 through December 24 is filled with shopping, food, drink, activities, tastings and rides for the kids as well as a Christmas Village. Expect handmade holiday gifts, ornaments and high-quality arts and crafts. The delicious smell of gingerbread and night lights make the holiday market a wonder.

Christkindlmarket, Denver

Running from November 17 through December 23, and open daily, the German American Chamber of Commerce-sponsored holiday market is one of the country's most authentic holiday experiences featuring traditional crafts, a strolling Saint Nick, and local and European food and drink. And it's free!

Downtown Holiday Market, Washington, D.C.

The 19th annual Downtown Holiday Market runs from November 17 through December 23, 2023. It's closed, though, on both Thanksgiving Day and December 4. The free, open-air shopping festival is beloved for supporting local businesses, Black and minority business owners and for showcasing regional music performances.

Union Square Holiday Market, New York City

Running from mid-November through December 23, New York City's Union Square Holiday Market (closed Thanksgiving Day) is a 150-vendor market full of shopping, eating and drinking opportunities. There's entertainment and booths filled with eclectic and traditional goods such as artwork, stationary, jewelry, accessories and clothing.

Free holiday movies

Alabama Theater, North Myrtle Beach, SC.

The Alabama Theater brings back a full schedule of $10 holiday movies from December 8 to 22. Doors open an hour before showtime and each film kicks off with a singalong with the Mighty Wurlitzer organ. Children two and younger are free. Look for movies like White Christmas, Elf and Die Hard.

Movies on the Potomac, National Harbor, MD.

Bring your lawn chair, grab area food and drink and settle in for a free holiday movie from November 12 through December 17. Look for classics like Shrek at the annual big-screen event.

El Paso WinterFest Film Series, El Paso, TX.

Starting November 17 and running through December 18, catch free holiday classics at the Plaza Theater such as A Christmas Story, Home Alone and National Lampoon's Christmas Vacation.

What's your favorite winter activity? Let us know in the comments below.