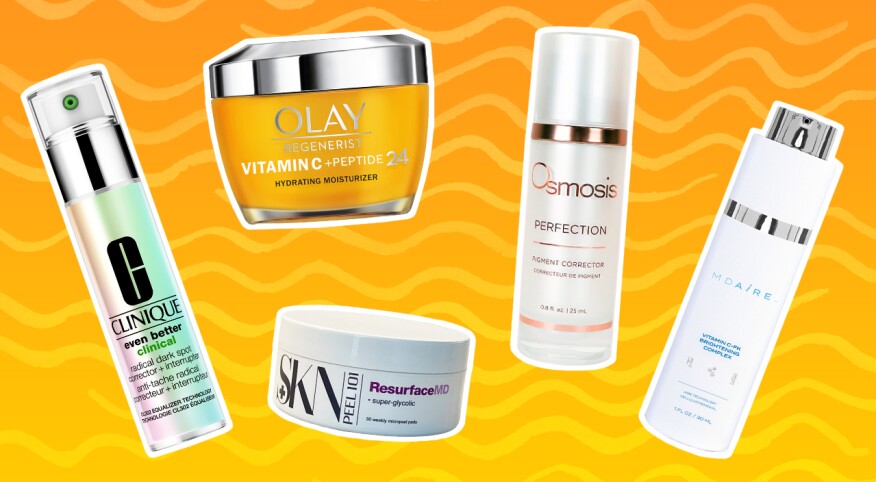 Even though I wear SPF 50 every day and stay out of the sun, I can't keep those pesky sun spots from appearing on my face, hands and chest. And every year, I notice more and more of them. While topical products can help reduce the appearance of hyperpigmentation (see below), I wanted something a little more powerful, to get rid of some particularly stubborn sun spots on my cheeks and acne scarring on my chin.

I'd had intense pulsed light (IPL) years ago, and it helped reduce some of my mild sun spots, but I knew there were newer treatments available and wanted to make sure I knew what my options were, so I turned to the experts.

"Sun spots can be very stubborn to treat," says Beverly Hills, California, board-certified dermatologist Vicki Rapaport, M.D. "So many lasers are effective at treating sun spots, but they'll only work well if they're delivered by a skilled laser specialist."

That means an expert who knows how to use the correct setting and how to push the limits of the technology to a safe and effective level, and also knows how to manage aftercare and any reactions the patient may experience.

For brown spots, Rapaport likes the Lumecca 515 and Lumecca 580, which are highly effective IPL treatments. In fact, she says that IPL can be an excellent way to treat sun spots and "is absolutely no less effective than a true laser, if used correctly." Rapaport frequently uses IPL in her practice to treat brown spots, because of its simplicity, safety and efficacy.

"The results can be miraculous," she says. Aside from IPL, Rapaport uses superficial and deep peels, DiamondGlow facials and medical-grade skin care to complement her patients' at-home regimens.

Adrienne Shostak, founder of Bespoke Aesthetics & Wellness in Washington, D.C., customizes treatments for each client and bases her recommendations on skin tone and specific concerns. She says that lighter skin tones do well with IPL, while the newer Laser Genesis is "a good-for-everyone-and-everything treatment." It uses a near-infrared wavelength to gently heat the dermis, creating a collagen stimulation.

"It's good for all skin tones and every condition you can think of, including acne, pigmentation, scarring, fine lines — even melasma. Best of all, there is no downtime and no pain," Shostak notes.

Two lasers often used to treat sun damage are Fraxel and Clear + Brilliant. Fraxel, a fractional laser, penetrates the skin more deeply to repair damage, while Clear + Brilliant superficially resurfaces the skin for a healthy and glowing complexion. Clear + Brilliant is a relatively quick treatment, with minimal discomfort; Fraxel can cause some discomfort since the laser penetrates the skin more deeply. In both cases a numbing cream is usually applied to the skin before the laser treatment begins, to help alleviate some of the pain.

Downtime for both is also different. After Clear + Brilliant, most people can return to normal activities. "The fractional laser is best for light to dramatic resurfacing, and most people need about a week of downtime afterward," Shostak says.

Board-certified dermatologist Stefani Kappel, M.D., based in Corona Del Mar, California, uses the Clear + Brilliant Touch laser to treat hyperpigmentation or melasma on people with darker skin tones. "It is, in my opinion, one of the safest and most effective ways to treat hyperpigmentation for those with darker skin tones," she says. Kappel adds that for people with fairer skin, the Fraxel Restore laser does a great job of treating hyperpigmentation, but it should be used with caution on darker skin tones.

"For optimal results, most people with light to moderate damage will require one to three sessions of each treatment and should see incremental improvements each time," Kappel says.

Shostak typically pairs lasers and peels with topical melanin inhibitors such as DMK Melanotech Drops, to ensure the best outcome. And of course, it's essential to stay out of the sun and use protection. Kappel recommends "broad spectrum photo protection daily," noting that an SPF of 50 or higher only protects against UVB rays.

"My best advice is to try to avoid sun spots altogether by wearing sunscreen every day. Don't even look at the weather," says Rapaport. "You must also reapply it every two hours when you're in the sun. If you want to kick it up a notch and impress your dermatologist, wear sun shirts with long sleeves whenever possible, use brightening skin care such as a strong vitamin C serum in the a.m. and retinol or Retin-A in the p.m., and use a weekly peel pad."

Topical Products for Hyperpigmentation

Not quite ready for laser treatment but want to fade those dark spots and patches? Here are some topical options, with active ingredients such as vitamin C and glycolic acid, that are proven to help give you a more even and youthful complexion.

Clinique Even Better Clinical Radical Dark Spot Corrector + Interrupter:

It's a mouthful, but boy oh boy, does it work. I used this for about a week and saw a noticeable reduction in the dark spots on my cheeks. The light serum uses a "proprietary brightening molecule and vitamin C for a more even-looking skin tone, including acne pigmentation marks. Not only does it help with hyperpigmentation, it also 'interrupts' future dark spots," according to the Clinique site.

Osmosis Perfection "fades dark spots and brightens skin by using tyrosinase inhibitors to reduce the production of melanin in the skin and natural brighteners to [?]reveal a more even complexion. Perfection's active ingredients address unwanted sun or liver spots, reduce acne scars, and gently brighten hyperpigmentation, post-inflammatory hyperpigmentation, sun spots, liver spots and melasma," notes Osmosis Beauty; $84.

Our drugstore pick is Olay's Vitamin C + Peptide 24 Hydrating Moisturizer.

This light, citrus-scented moisturizer was formulated to brighten dull skin, visibly even tone and correct discoloration. The combination of dermatologist-recommended ingredients such as vitamin C, niacinamide (vitamin B3), peptide and AHA lactic acid helps to correct the look of uneven tone and texture without clogging pores. It's good for all skin types; $30.

For a professional-strength peel, try SKN PEEL 101 Resurface MD pads. Made with 20 percent glycolic acid, these exfoliating pads aid in sloughing off the top dead layer of skin minimal irritation; $125.

How do you handle your own dark aging spots? Let us know in the comments below.