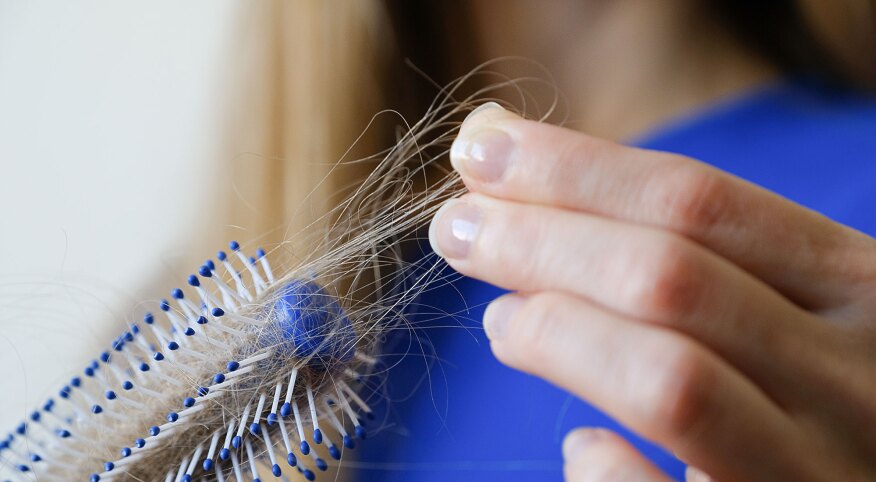 About a year ago my Instagram feed was flooded with reels about how using rosemary oil or rosemary water could make your hair grow. Then my teenage daughter, who loves trying new skin and beauty trends, started talking about how everyone was using rosemary oil and their hair wasn't only growing faster, it was getting thicker and fuller. She told me even men were using it to reverse their hair loss.

She decided to order the Mielle Rosemary Mint Scalp & Strengthening Oil ($10) she kept seeing other women and men use. It's inexpensive and is available at Target and Amazon. Similar products include Handcraft Rosemary Essential Oil ($7) and Baja Basics Rosemary Oil for Hair Growth ($13).

Because I'd been complaining since turning 40 that my hair wasn't the same and seemed to be thinning, she tried to talk me into trying it with her, but I didn't. Honestly, I figured it was another silly fad that didn't work, and I didn't want to put the energy and effort into it.

My daughter, though, was diligent. Every Sunday evening she'd use the rosemary oil. After a few months I was blown away by the results. Not only had her hair grown about 2 inches in five months, you could see tiny baby hairs coming up all along her hairline. It was the same result I'd seen for hair growth supplements that cost a few hundred dollars a month.

Her hairdresser said, "I've never seen hair like this. You have no damage. It's like Barbie hair." It's been almost a year, and her hair has grown about 6 inches and is so much thicker.

The Cleveland Clinic reports that over half of women will experience hair loss at some point in their lives. For most of us, this happens after we turn 40. But other things can cause hair loss, such as childbirth, medications, extreme weight loss, and certain hairstyles that pull on the roots of your hair.

For me, I noticed my hairline was starting to recede, and I'd looked into different treatments over the years to get my hair back to the way it was in my 20s. But after reading so many mixed reviews and seeing how much a lot of these supplements cost, it didn't seem worth it. Maybe this was different, so I decided to try it. A study published in 2015 suggested that using rosemary oil consistently for six months has the same effect as minoxidil. Not only is rosemary oil a lot cheaper, there are no side effects and it's a natural alternative to help grow your hair.

Cameron Rokhsar, M.D., is an associate clinical professor of dermatology at Mount Sinai Hospital and a laser expert, dermatologist and cosmetic surgeon in private practice for more than 20 years. He explained to The Girlfriend that an "active ingredient in rosemary oil, carnosic acid, has been shown in studies to promote the healing of nerve tissue and damage, which can lead to better circulation and nourishment to hair follicles. Additionally, rosemary oil is known for its potent antioxidant and anti-inflammatory properties, which can help soothe the scalp and reduce dandruff and other scalp irritations. These benefits may help promote healthy hair growth.

"Rosemary oil is also believed to be effective in blocking the effects of DHT, a hormone [dihydrotestosterone] that can cause hair follicles to shrink and lead to hair loss. Furthermore, rosemary oil has been shown to increase hair growth, similar to minoxidil, which is a popular topical medication used to treat hair loss. This is believed to be due to its ability to improve circulation and nutrient delivery to hair follicles," he explained.

Now, after trying it myself for a few months, I can't believe what this simple, inexpensive oil is doing for my hair. Not only does it look super shiny and healthy, it also is growing faster. I have the same baby hairs my daughter had after using it. I figured I was stuck with thinner hair unless I was going to spend a ton of money each month, but I've never been so happy to be wrong.

Here are instructions for what worked for me: Once a week, part your hair into about six sections and apply a few drops to your scalp in each. Massage your head for about three minutes. You can put a few additional drops in your hands and run them through the ends if you'd like to do an entire hair mask, but the important part is to make sure you get the oil on your scalp. The great news is you don't have to use a lot — a little goes a long way.

You can either sleep with the oil on your hair overnight — I did not try this, but friends did — and wash in the morning or leave it on for at least three hours, then wash it out.

You can make your own rosemary solution by adding 3-5 drops of rosemary oil to a hair mask — a deep-conditioning mixture applied to nourish the hair that you can make yourself or purchase. You can also make a rosemary rinse by bringing two cups of water and about five sprigs of rosemary to a boil on your stove. Turn heat down and let simmer on the stove for about 20 minutes. Remove the pot from the stove and let it steep for about a half hour. Strain the mix (it will be dark in color) and transfer into a spray bottle and store in the refrigerator. This rosemary rinse can be sprayed on your hair every day to promote hair growth.

The most important thing is to be consistent for at least six months to see results.

Is your hair thinning? What do you do about it? Let us know in the comments below.