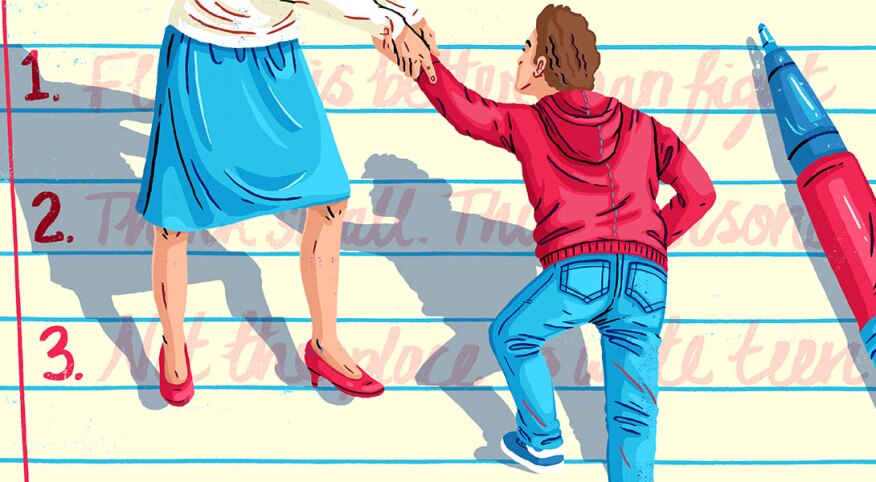 I was sitting on the plush couch in a noted child therapist's office in Manhattan. My husband had just died suddenly and we were discussing how to help my 6-year-old daughter, Sasha, through this difficult period. Looking up brightly, the therapist, a mother of two children in New York City private schools, said, "Well, at least she'll know what to write her Common App essay about!" At the time, this was small comfort. Eleven years later, it was downright prescient. When I told another mom during high school senior year that Sasha was writing her essay about her father's death, she snapped, "Well, she has it made."

I stopped being able to help with my daughter's math after third grade. At the science fair, I was convinced that parents outsourced their kids' projects to MIT-trained engineers. But after publishing seven novels, I figured I could at least give good advice about her Common App essay. The only glitch: That would entail her showing it to me. Instead, Sasha showed her essay to her college counselor, her SAT tutor and her English teacher. She only deigned to show it to me two nights before her application was due. "But there's no kicker!" I exclaimed, after telling her how good it was. She hadn't tied the experience and her reaction to it together. It was a minor but crucial fix. Soon I began to help all her friends and even started a business helping kids. (Teenagers are actually quite lovely when they're not your own.) Here, three common mistakes and how to avoid them.

1. Flight is better than fight. Kids are loath to share their vulnerabilities with their parents, and panicked parents can't help but nag about deadlines. You don't have to hire a professional essay expert, but your kid may open up more readily to an adult who is not a) a teacher and b) you. Choosing a topic is the hardest part, and a convo with a neutral person (one of your friends your kid likes can work) about what your child cares about or a memorable experience, no matter how seemingly insignificant, can save nights of slammed doors. When your child has two to three potential topics, have him write a paragraph about each. It will quickly become clear which can be expanded, and he will have a sense of control.

2. Your kid doesn't have to have climbed Kilimanjaro. Kids assume all is lost if they haven't been short-listed for a Nobel Prize by 17. Parents tend to suggest topics they assume will be most impressive (seriously, though, no child has ever understood behavioral economics in third grade). School counselors believe a résumé approach is best. It's not. Admissions departments already have all school records. They are also not interested in your kid's stint with Habitat for Humanity (sorry). Think small. Think personal. One boy I know wrote about what it was like to have red hair when you're Chinese. (Harvard.) Another did a great essay on her love of decorating cupcakes.

3. What not to write. Under no circumstances should you or anyone other than your kid write the essay. Not only is it wrong, but admissions officers will know. It is also not the place to write about depression or other teen confessionals. While some kids think this lends them an air of radical transparency, colleges live in terror of campus suicides (as well they should). Adolescent angst should be saved for the therapist's office.


Illustration by Eva Bee