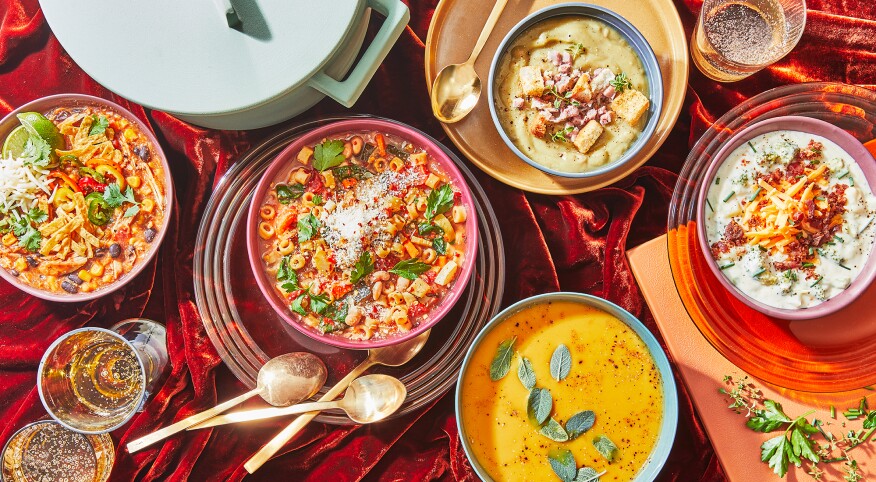 It's soup season, the time of year when I crave the flavors of fall to fill my belly and soothe my soul. It's also the perfect time to take advantage of the abundance of autumn vegetables and turn them into something creamy, comforting and delicious! Soups are among the easiest recipes for non-cooks to make because they're generally one-pot meals that simmer for an hour or two on the stove while filling the house with the aromatic scents of the season.

These hearty soup recipes are ideal for a cozy fall night in front of the fireplace with a blanket and a good book. You'll find these recipes so easy and tasty that you'll likely go back for a second helping!

Butternut Squash Soup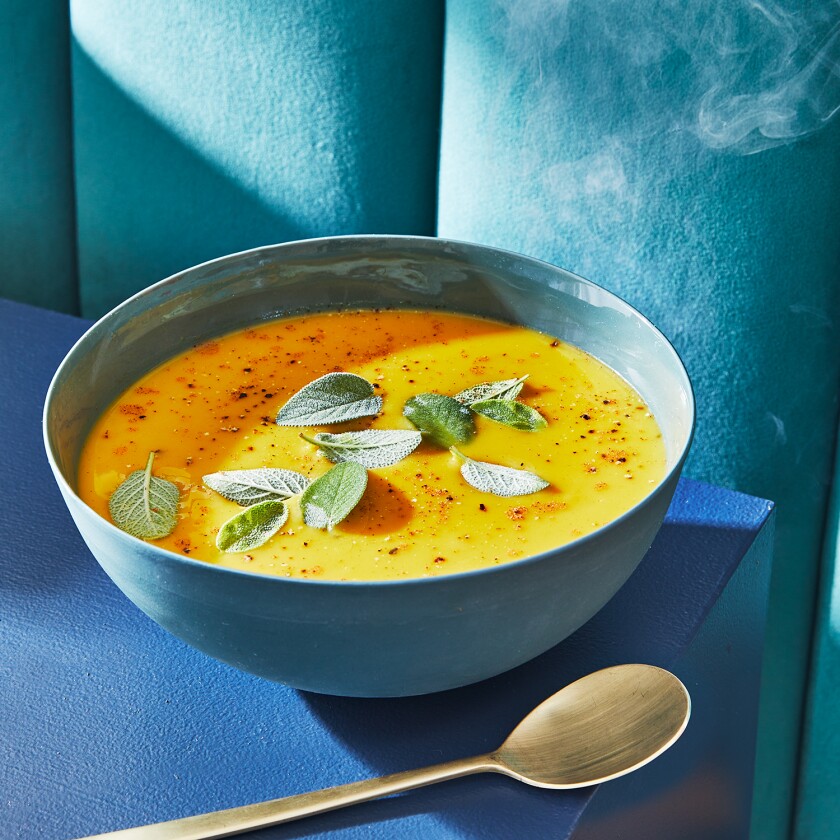 Serves 4

2 tablespoons butter

1 yellow onion, diced

1 tablespoon freshly grated ginger

3 cloves garlic, minced

1 cup chopped carrots

4 cups butternut squash, peeled, seeded and chopped

3–4 cups vegetable or chicken broth

1 tablespoon chopped fresh sage

Pinch of cinnamon

Pinch of nutmeg

Salt and pepper to taste

1/2 cup unsweetened coconut milk or half-and-half

Fresh chopped parsley for topping

Melt butter in large pot over medium heat. Add onion and sauté five minutes until slightly translucent. Stir in garlic and ginger and cook one minute. Add carrots and squash and cook until lightly browned, about five minutes. Add three cups broth and all seasoning. Stir and bring to a boil, then reduce heat to a simmer for 30–40 minutes (or until carrots and squash are tender). Remove from stove and stir in the coconut milk. Place soup in a blender (in batches if necessary) and blend until smooth (or use an immersion blender in the pot). Add the extra one cup of broth if necessary to reach desired consistency. Top with parsley and serve with a loaf of crusty bread.

Loaded Baked Potato and Broccoli Soup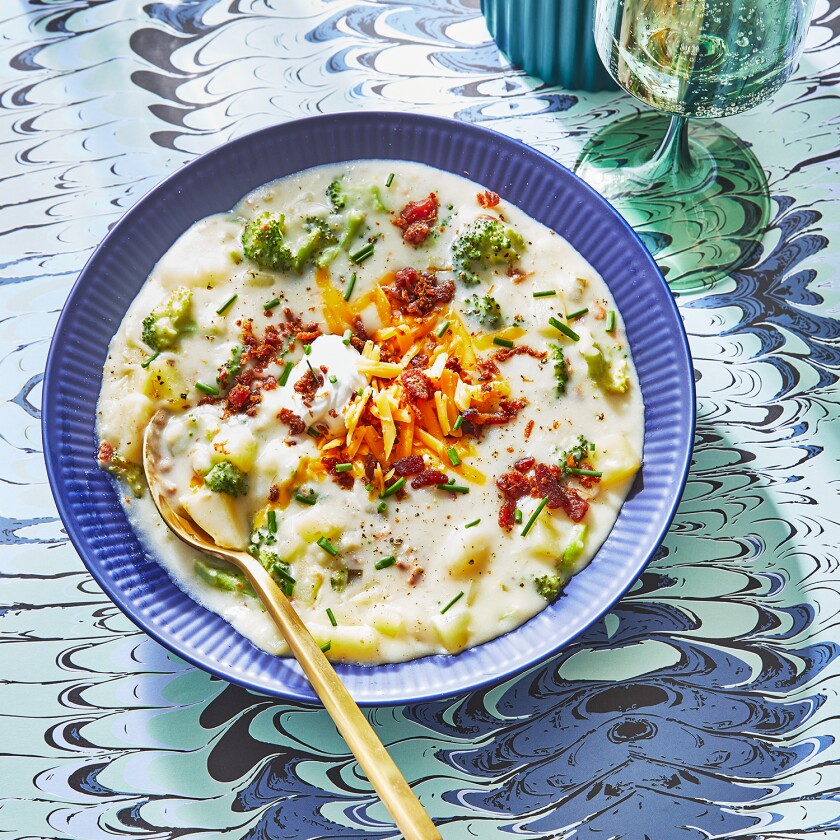 Serves 6

6 strips bacon, diced

2 tablespoons butter

1 medium onion, diced

1 teaspoon minced garlic

3 tablespoons flour

2 cups whole milk

3-4 cups chicken broth

Salt and pepper to taste

3 pounds gold potatoes, washed, peeled and chopped into bite-sized chunks

3 cups broccoli florets, cut into bite-sized pieces

1/4 cup heavy whipping cream

1 cup sharp cheddar cheese, grated

1/2 cup sour cream

Chopped chives for garnish

*Optional: extra cheddar and chopped bacon for topping

In a large pot, cook diced bacon until crisp. Remove bacon from pot and drain on paper towels. Discard all but 1 tablespoon of the grease.

Add butter to pot and sauté onions and garlic for 4–5 minutes over medium heat until onions are translucent. Stir in the flour and blend, then whisk in the milk. Once blended, add broth (starting with 3 cups and adding more depending on desired thickness), salt, pepper and potatoes, and cook for 15–20 minutes over medium heat until potatoes are tender. Remove from pan and blend half of the mixture in a blender until it is creamy. Add this mixture back to the pot and stir until well incorporated. Add broccoli, whipping cream and sour cream. Cook over medium heat, stirring frequently until broccoli is tender (about five minutes). Stir in the bacon pieces. Remove from stove and add cheese, stirring until smooth. Ladle into bowls and top with chives and extra cheese if desired.

Vegetarian Minestrone Soup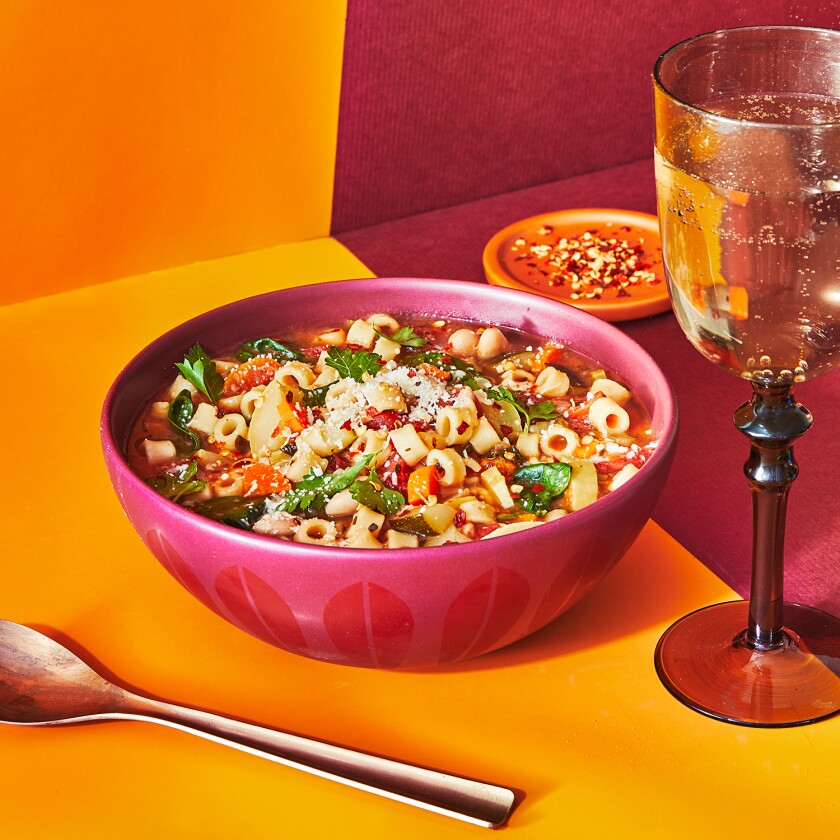 Serves 4

3 tablespoons olive oil

1 cup diced onion

2 celery stalks, diced

2 carrots, washed, peeled and chopped

1 28-ounce can diced tomatoes

3 cups vegetable broth

3 cloves garlic, minced

1/2 teaspoon dried oregano

1/2 teaspoon dried sage

1 teaspoon thyme

1 teaspoon. dried basil

2 bay leaves

Black pepper to taste

Pinch Lawry's Seasoned Salt (or regular salt)

1 medium zucchini, chopped

1 medium yellow squash, chopped

2 cups chopped spinach

1 15-ounce can white beans

2 cups cooked ditalini (small shell) pasta

4 tablespoons freshly grated Parmesan cheese

*Optional: a dash of red pepper flakes if you like it spicy!

Heat oil in a stockpot over medium heat. Add onion, celery and carrots. Cook until tender, about 7–10 minutes. Add tomatoes with juice and broth. Add garlic and all seasonings including the bay leaves and bring to a boil. Cover pot slightly with a lid, then reduce heat to a simmer and cook 15 minutes. Add zucchini, squash, spinach, beans, and pasta. Cook for 15–20 more minutes or until all veggies are tender. Remove bay leaves. Ladle soup into four bowls and top with freshly grated Parmesan cheese.

Chicken Tortilla Soup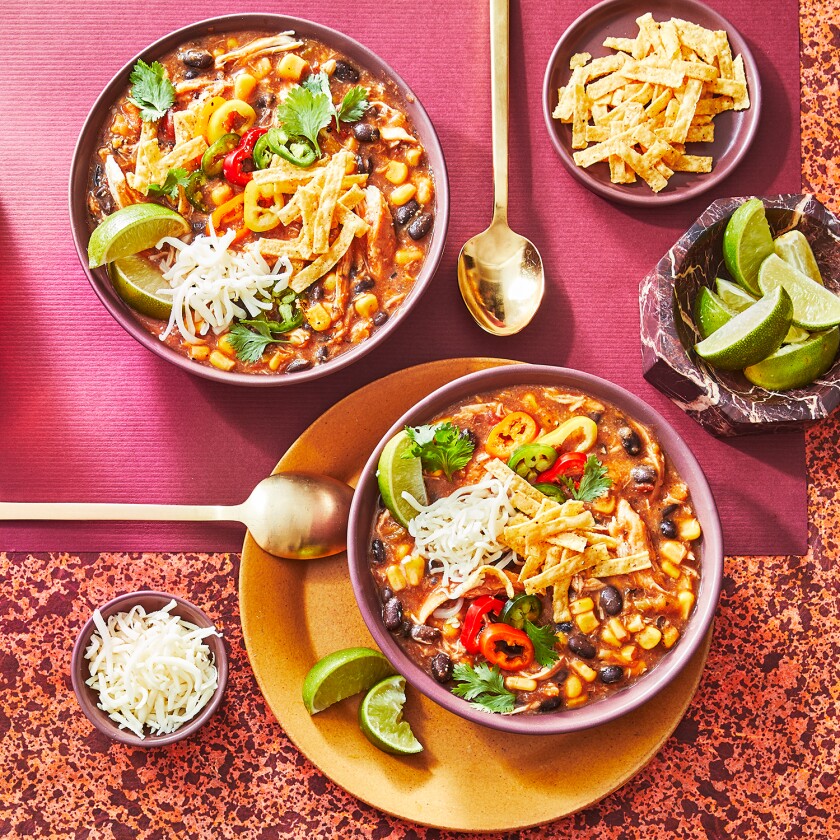 Serves 6

4 tablespoons olive oil

8–10 corn tortillas cut into 1/4-inch wide strips

1 onion, chopped

1 jalapeño pepper, seeded and diced fine

3 cloves garlic, minced

32-ounce can chicken broth

20-ounce can crushed tomatoes

15-ounce can black beans (drained and rinsed)

15-ounce can corn (drained and rinsed

4-ounce can diced green chilis

2 cups cooked, shredded chicken

Juice of 1 lime

1 teaspoon cumin

1 teaspoon chili powder

1 teaspoon smoked or regular paprika

Salt and pepper to taste

1/2 cup chopped fresh cilantro

*Optional dash of red pepper flakes

1 cup shredded Monterey Jack cheese

Toppings: avocado slices, sour cream, extra cilantro, lime wedges. Place tortilla strips on baking sheet. Drizzle 2 tablespoons oil over strips and toss until well coated. Bake at 375°F for 15–18 minutes until strips are lightly golden brown. Set aside. In large stockpot, heat remaining 2 tablespoons oil over medium heat. Sauté onions and jalapeno, stirring occasionally until tender, about 5 minutes. Add garlic and sauté another 1–2 minutes. Add broth, tomatoes (with juice), beans, corn, chilis, chicken, lime juice and seasonings. Bring to a boil then down to a simmer for 5–7 minutes, stirring occasionally. Add fresh cilantro and cook another 1–2 minutes. Ladle soup into bowls, then top each with shredded cheese and tortilla strips. Garnish with avocado slices, sour cream, extra cilantro and a lime wedge, if desired.

Split Pea Soup With Ham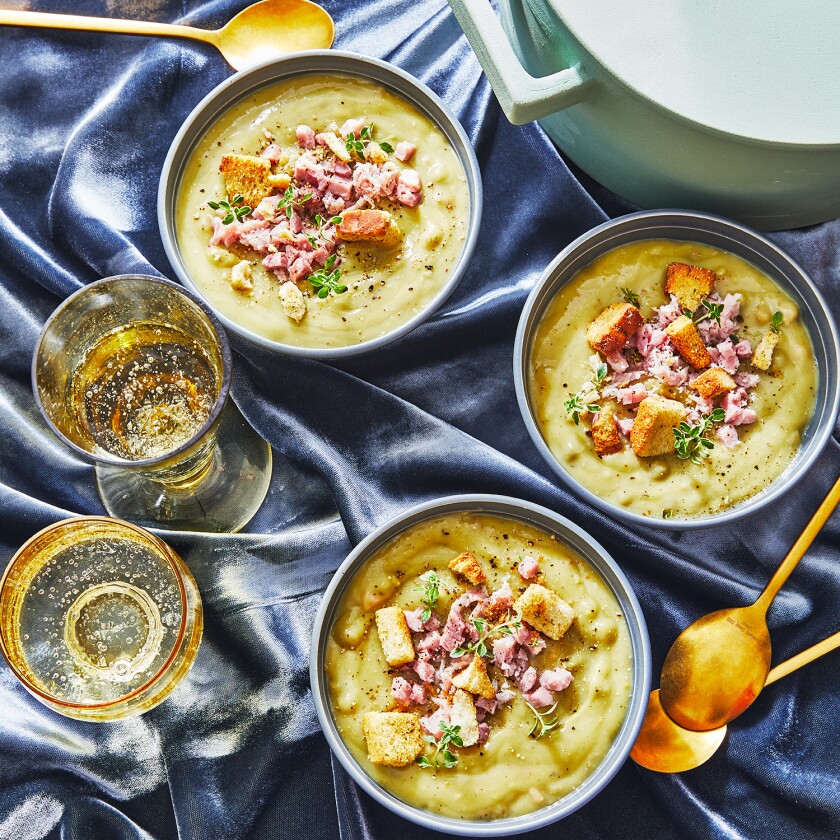 Serves 6

2 tablespoons butter

1 large onion, diced

1 large carrot, chopped

2 celery stalks, diced

16-ounce package dried split peas

6 cups chicken broth

1 cup water

1 ham bone

1 pound ham steak cut into quarters

1 bay leaf

Salt and pepper to taste

Dash of nutmeg

Dash of clove

1/2 teaspoon dried thyme

2 tablespoons white vinegar

*Optional: croutons for topping.

In a large stockpot, melt butter and sauté onions, carrots, and celery for five minutes until slightly tender. Meanwhile, rinse peas in a colander and drain. Add peas, broth, water, bone, ham steak, bay leaf and seasonings (but not the vinegar) to the pot. Bring to a boil, stirring frequently to prevent the peas from sticking to the bottom of the pan. Reduce heat to a simmer and cover. Cook (stirring occasionally) until peas are soft, about 45 minutes to an hour. Discard bay leaf and bone. Remove ham and shred it into small pieces, then set aside. Cream the soup with an immersion blender (or in a regular blender) until the peas are smooth and creamy. Stir in the vinegar and add more water if needed. Add ham pieces back into pot and stir over medium heat until warm before serving. Ladle into bowls and top with croutons if desired.


What's your favorite soup to make in the fall? Let us know in the comments below.